Practical Asana Course
October 13 @ 9:00 am

-

4:00 pm

R2880
Event Navigation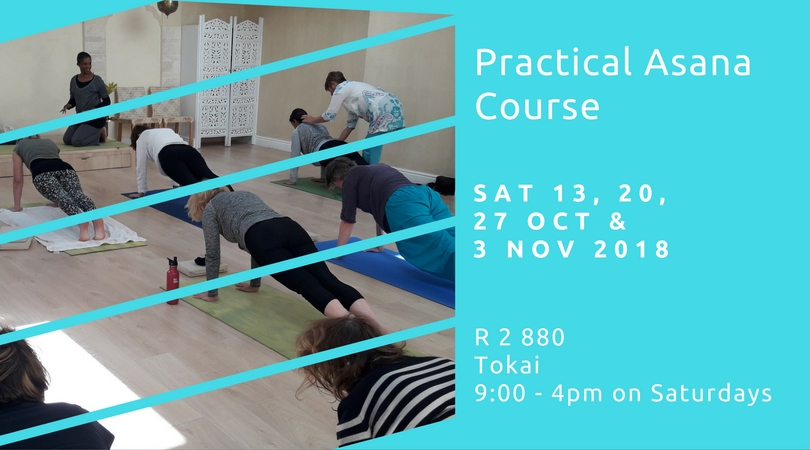 Practical Asana Module
This module will help you get a clearer understanding of how you should practice and teach integral hatha yoga so that you can feel confident in not just your personal practice but when teaching students as well.
We first need to gain a deeper understanding of how our bodies function, what adaptations we need, what adaptations others need before we can confidently start suggesting variations and adaptations to our students.
You will leave this module feeling like you've gained a deeper insight into the specific changes and adaptations you need to personally make to your practice to that ensure your body functions more smoothly, safely and in alignment so that you feel inspired and motivated to share this gained knowledge with others.
This is a very hands on and practical module. Each week we will be going through a complete integral hatha yoga class and then analysing each aspect of the practice, in detailed discussion and in practise, afterwards. This analysis will be done by addressing the specific concerns and queries that arise from the group.
The following will be covered:
• Identify limitations in asana practice
• Improve and support in asana practice
• Establishing pranayama practices
• Introduction to Yoga Nidra
• Medical cautions in asana practice
• Adapting classical postures for special needs
• Motivation for Sadhana (Daily Yoga and Meditation) Practice
• Introduction to Vinyasa Krama (Yoga Sequencing) in Integral Hatha Yoga
Dates: 13, 20, 27 Oct & 3 Nov 2018 (Attendance to all classes is required)
Time: 09:00 – 16:00
Venue: 14 Dalmore Road, Tokai
Module Cost: R 2 880