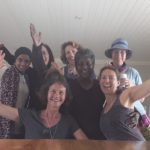 Join Nina and her team for a variety of Integral Hatha Yoga classes in Tokai, Cape Town.
Facebook Posts
Lokah samastah sukhino bhavantu...
"May all beings everywhere be happy and free, and may my thoughts, words, actions of my own life, contribute in some way to the happiness and to the freedom of all."

This man, this service, is what more privileged people need to do to save our planet......without Gaia, we are nothing... Hansjorg Wyss, I salute you! ... See MoreSee Less
One Love! All connected! <3

BrightVibes
Once we become aware of how much we have in common, magic happens 🤗 Watch till the end #happytears

🙏 TV 2 ... See MoreSee Less
The Children of Light School is part of the Education Trust of Ananda Kutir Ashram and is doing magical wonders for underprivileged small children to provide them with a safe haven and holistic education that they would otherwise not be privileged to have. Please do what you can and spread the word if you know of anyone who can assist with such volunteer work. Thank you! ... See MoreSee Less
We are seeking a volunteer to do the following tasks: - typing - filing - packing toy store room On Mondays from 10am to 12:30pm. If you are able to...