Serves 4
Cooking time 20 minutes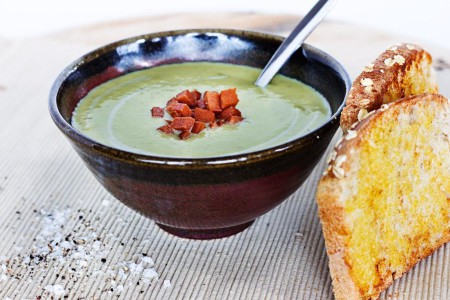 INGREDIENTS:
¼ Fry's Polony/Slicing Sausage, cubed
50g margarine
1 leek, rinsed and sliced
2 garlic cloves, crushed
1 head broccoli, chopped
1 litre vegetable stock
100g baby spinach leaves
250ml fresh cream
15ml lemon juice
Sea salt and ground pepper, to taste
METHOD:
Heat a deep, medium saucepan over high heat.  Add the butter, leek and garlic and cook, stirring until the leek is tender, about 5 minutes. Add the broccoli and stock, bring to the boil and cook until the broccoli is tender, about 8 – 10 minutes.
Fry the cubed polony in a little bit of oil until crispy and set aside.
Add the spinach and cook for a further 1 – 2 minutes.  Blend with a hand blender until smooth.  Stir in the cream and lemon juice and season.  Ladle into bowls, top with polony and serve with margarine toast.