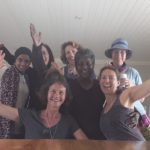 Join Nina and her team for a variety of Integral Hatha Yoga classes in Tokai, Cape Town.
Facebook Posts
Also known as Dwi Pada Peetham.Instagram:-Http://Instagram.com/itsyogasana ... See MoreSee Less
My latest My latest blog, somewhat overdue in keeping a promise to myself not to neglect my creative side. Thank you for reading!

Namaste,
Juanita. ... See MoreSee Less
When you choose to walk a different path to the one you existed for decades as a young naïve adult living from exploring adulthood to having endless ...