This simple vegan recipe is perfect for school lunch boxes or for those who are on the go.
Serves 4
Cooking time 35 minutes
Vegan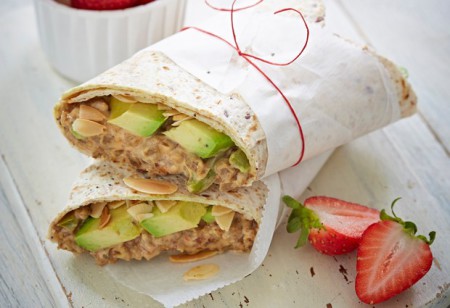 INGREDIENTS:
1 box of Fry's Meat Free Mince
2 tbsp. olive oil
1 tsp. dry mixed herbs
½ tsp. rosemary
½ tsp. cumin seeds
½ green pepper, sliced in julienned strips
Handful of almonds, diced
½ an avocado, sliced in julienned strips
3 tbsp. egg-free mayonnaise, add more if desired
3 tbsp. sweet chilli sauce, add more if desired
4 seeded tortilla wraps
METHOD:
Heat oil in frying pan for 1 minute and then add cumin seeds. Allow to cook until the cumin seeds are golden brown.  Add Fry's Mince, mixed herbs and rosemary and cook for 10 minutes. Add a small amount of water if necessary to prevent burning.  Add pepper and stir. Allow to simmer for 4-5 minutes.
Remove the pan from the heat.   Add mayonnaise, sweet chilli sauce to the mixture to taste.  Add avocado to the mixture and garnish with almonds.
Place in tortilla wraps and ready to serve.