Serves 4 – 6
Cooking time 30 minutes
Vegan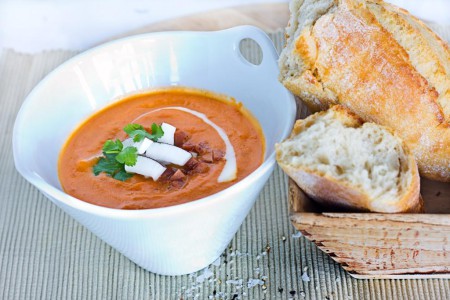 INGREDIENTS:
¼ Fry's Polony/Slicing Sausage, cubed
1 onion, finely chopped
1 garlic clove, finely chopped
1 red chilli, seeded and finely sliced
1 tsp fresh ginger, grated
2 tbsp margarine
1 litre vegetable stock
4 large red- fleshed sweet potatoes, cubed
2 tbsp soy sauce
1 x 400g tin coconut cream
Salt & freshly ground black pepper, to taste
Fresh coconut, shaved, to garnish
Fresh coriander, to garnish
METHOD:
Gently sauté' the onion, garlic, chilli and ginger in the butter for about 5 minutes. Add the stock and sweet potato and simmer until soft and tender – about 15-20 minutes. Blend in a food processor, pour into a clean pot and stir in the soy sauce. Fry the cubed polony in a little bit of oil until crispy and set aside.
Serve garnished with fresh coconut shavings, polony and a few sprigs of coriander.
BON APPETIT!