Serves 4
Cooking time 20 minutes
Vegan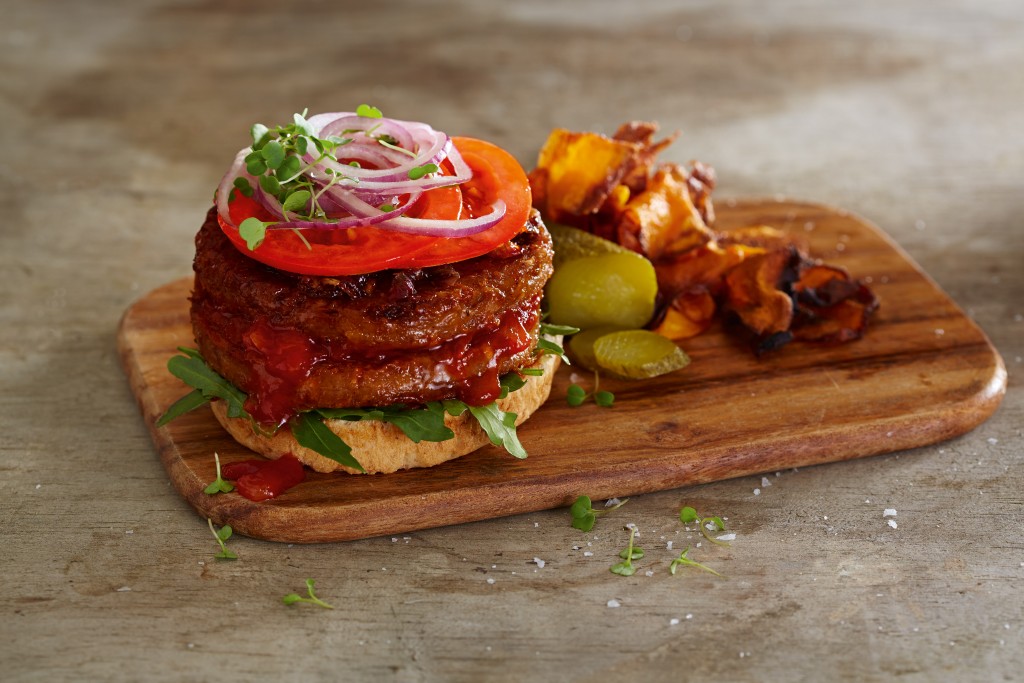 INGREDIENTS:
4 Fry's Traditional Burgers
Olive oil
1 red onion, thinly sliced
2 tsp sugar
2 tbsp balsamic vinegar
2 cloves garlic, chopped
2 tbsp wholegrain mustard
2 tsp flat leaf parsley, chopped
1 tsp dried thyme
Sea salt and freshly ground black pepper
1/2 butternut, thinly sliced
Vegetable oil
1 ½ fresh chillies, finely chopped, to serve (optional)
4 sesame burger buns, toasted
1 red onions, peeled
1 large, ripe tomato, chopped
Lettuce
Tomato chutney or sweet & chilli sauce
Gherkins, sliced
METHOD:
In a large saucepan heat a drizzle of olive oil.  Add onions and stir-fry for 1 minute. Add sugar and balsamic vinegar to caramelise. Remove and cool down. Onions should still be firm. Combine onion mixture with garlic, mustard, parsley and thyme.
Fry the burgers in a little oil on medium heat for 8 minutes. Place patties on burger buns and top with onion mixture, sliced onion, tomato, lettuce, gherkin and tomato chutney or sweet & chilli sauce.
To make the butternut crisps, preheat oven to 200ºC. Brush butternut slices with oil. Bake for 20 mins, or until crispy. Coat butternut crisps with fresh chilli (optional), sea salt and black pepper.
www.frysfamily.com