Serves 4
Cooking time 20 minutes
Preparation time 60 minutes
Vegan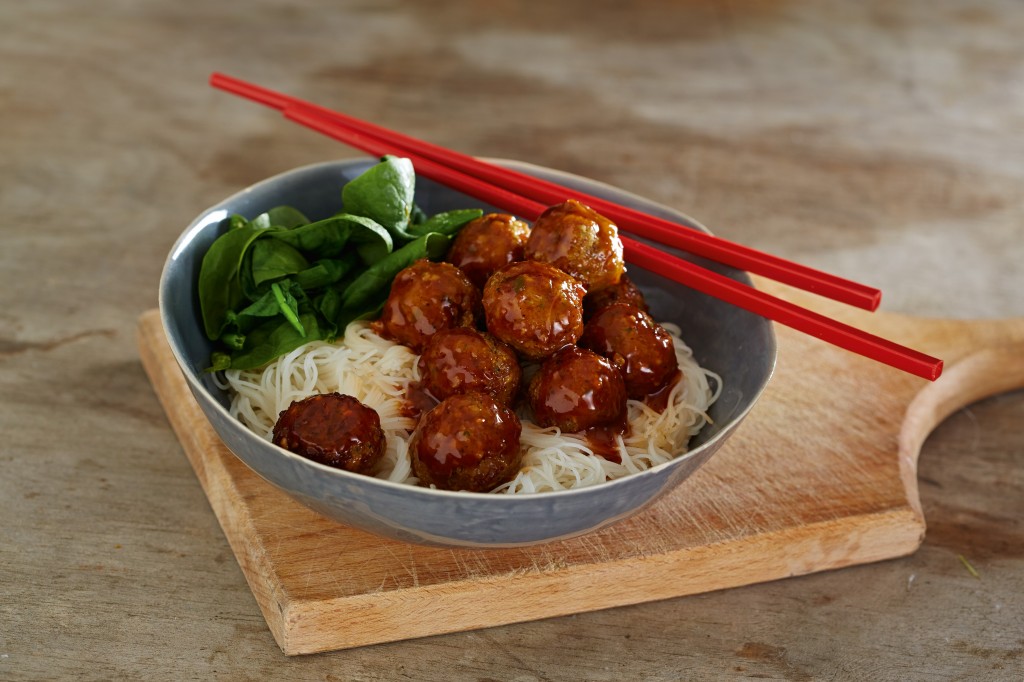 INGREDIENTS:
1 box Fry's Chicken-Style Chunks
½ cup dried Bread crumbs
½ tsp No Egg (or any egg replacer)
1 tbsp. Parsley, finely chopped
3 Spring onions
1 tbsp. Cashew nuts, ground and soaked
1 tbsp. Carrot, finely grated
½ tsp fresh Lemon juice
Ground black pepper
Off the shelf sticky sauce:
1.5 cups good BBQ sauce
½ cup Sweet chilli sauce
1.5 cups Chutney
½ cup Tomato sauce
¼ cup Dark soy sauce
2 tbsp. vegetable stock powder
METHOD:
Place all ingredients in a food processor and blend until smooth. Transfer mixture into a bowl. Wet hands and begin rolling mixture into balls. Cover the balls and place in the fridge for 1 hour. Deep fry the balls until brown and crispy, (the oil must be deep enough for the balls to be immersed in the oil). Drain and toss with a warm sticky sauce and serve immediately.
Off the shelf sticky sauce:
Throw all ingredients in a pot and gently simmer for half an hour.
Wilted Pak Choi:
Use baby Pak Choi, wash and trim. Heat a little peanut oil in a small frying pan. Gently heat the Pak Choi until just soft.
Cook the rice noodles as instructed on the packaging.
Serve each portion in a small bowl. Place drained noodles in a bowl and top with Pak Choi. Add the warm sticky balls, top with sauce and sprinkle with thinly sliced spring onion.
Thank you to Fry's Family Food for providing YAA followers with our range of monthly recipes!