Serves 2
Cooking time 25 minutes
Vegan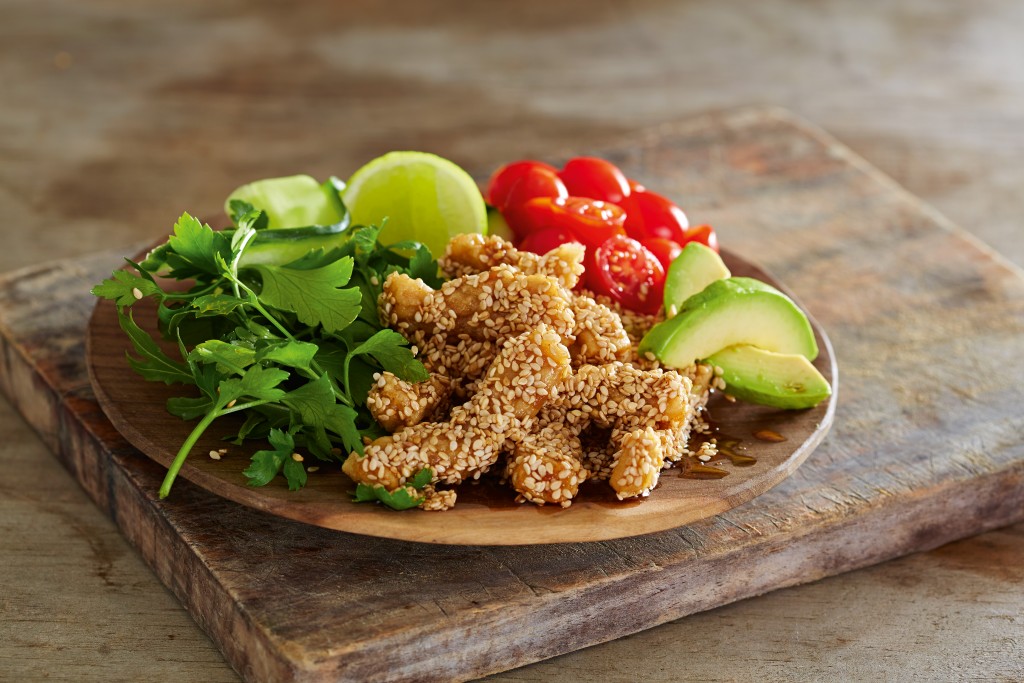 INGREDIENTS:
1 box Fry's Chicken-Style Strips
1 cup toasted Sesame seeds
1/4 cup Raw honey (or Agave syrup)
Grapeseed oil
As many salad vegetables as you wish to have
Ripe avo
Thai dressing:
1 tbsp Sesame oil
1/2 cup Lime juice
1 – 2 Red chillies, finely chopped
1 tbsp Coriander leaves
METHOD:
Place the honey and 1 tbsp boiling water in a shallow small bowl. Place the toasted chicken-style strips in another small bowl. Dip each strips in honey/water and then into the seasme seeds and coat both sides.
Lay strips on a baking tray and place in the fridge for 15 minutes. When ready, warm a little grapeseed oil in a frying pan and toast the strips on. The strips can burn very easily so watch carefully.
To serve:
In an individual bowl, place the salad ingredients. Slice avocado thinly and place on top of the salad ingredients. Top with the warm strips and serve with the well mixed Thai dressing.
Sincere gratitude to Fry's Vegetarian Family Foods for the recipe contributions to the Yoga Awakening Africa portal!