Serves 4
Cooking time 20 minutes
Vegan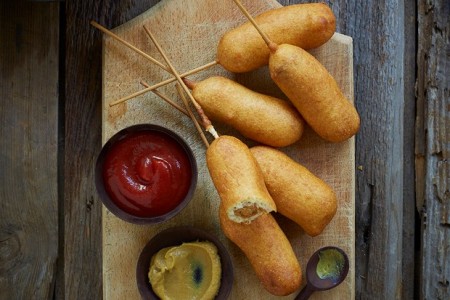 Ingredients:
1 box Fry's Original Hot Dogs cut in half
1/3 cup cornmeal
1 cup flour
2 tsp. corn flour
2 tsp. baking powder
1 tsp. salt
1 cup soy milk
60ml tomato sauce
45ml mustard
Oil for deep frying
Skewers
Method:
Heat the oil for deep frying.
Mix all the dry ingredients together, make a well in the center and add the soy milk, whisk to form a smooth batter. Skewer each FRY'S HOT DOGS half and dip into the batter. Deep fry 2 at a time for about 2 minutes until golden brown.
Drain on paper towel. Serve the corn dogs with tomato sauce and mustard.