Name:
Ena During.
DOB:
29/10/49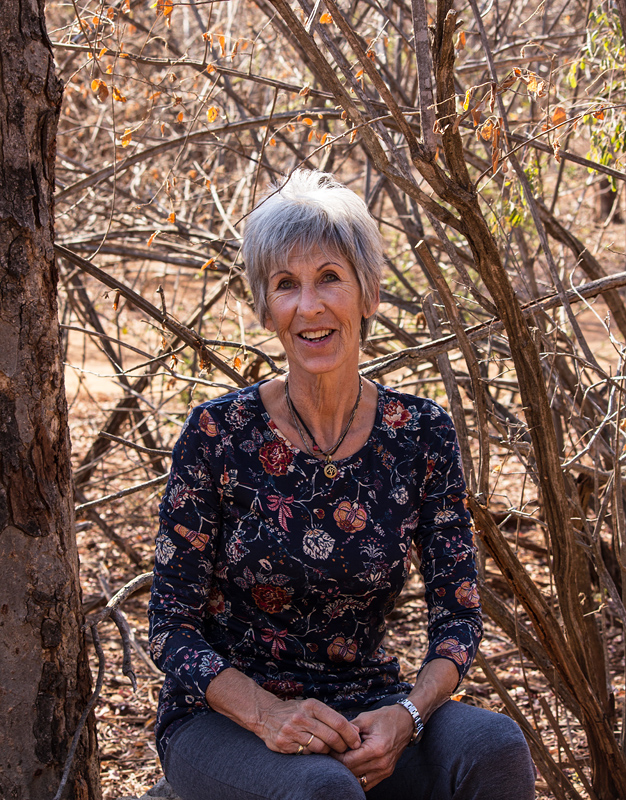 What style of yoga do you teach?
Hatha Yoga.
Where do you teach?
In and around Hoedspruit, Limpopo.
How long have you been practicing yoga?
Since the early 1970s.
How long have you been teaching yoga?
Since 1997.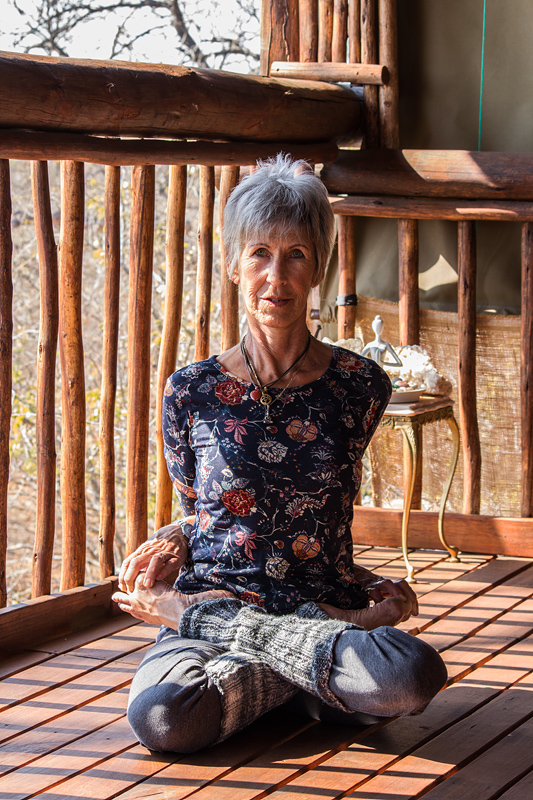 Who have you trained with and where?
My earliest classes were with a young woman who taught in Windsor Glen, Randburg. I often think of her and the yogic impression she made on me. From here we moved to the Cape Province in 1975, to find myself surrounded by wonderfully dedicated Iyengar teachers, from Simon's Town through to Kalk Bay, where I met my all-time favourite teacher.
What lead you to teaching yoga and at what point did you decide that you wanted to teach?
We bought a small farm in the Western Cape after having had a run in with uterine cancer which somehow left me feeling defeated and exhausted for a prolonged period of time. A bunch of robust and enthusiastic local woman nagged and coerced me, out of my battered and withdrawn physical and mental state, into starting yoga classes in the village. I was instantly catapulted back into yogini mode.
Experiencing not my own recovery only but also the metamorphoses of my 'students', made a deep impression on me. Teaching was no longer optional. I loved planning the classes as much as I loved sharing it.
What do you love most about teaching?
I love the group-sense, in a yoga class, of working toward the Self on so many levels – the body as a structure. The mind, now as an ally and then as an adversary. The emotions ranging from joyful or it's often unexpected opposite, on a sudden release of tension somewhere in the system. The play of ego.  But to witness the shifts and changes in the students facilitated by the inevitable expansion in consciousness – This I am in love with.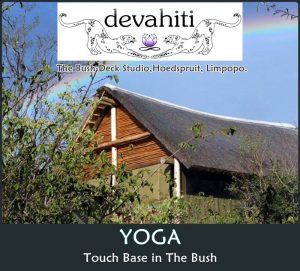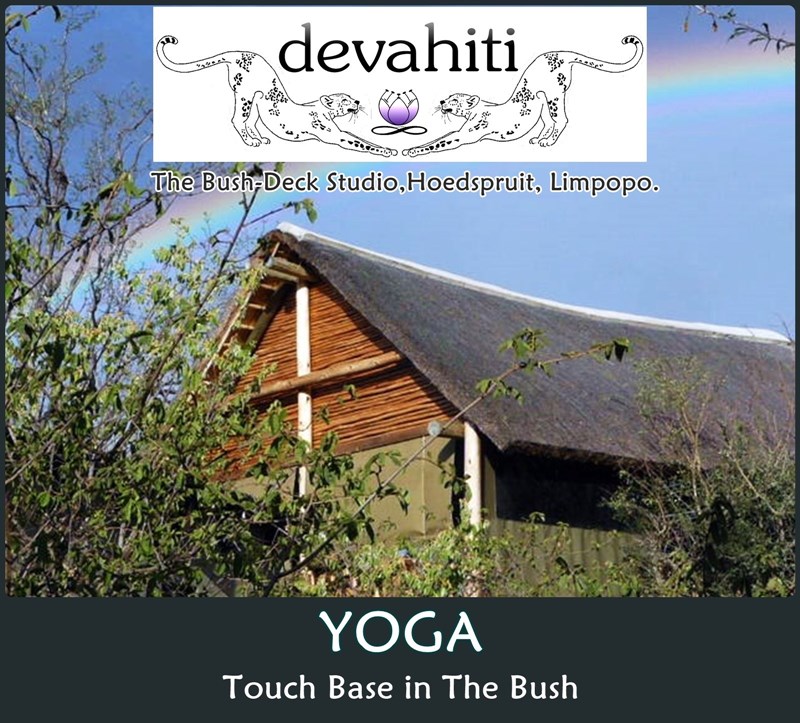 Is there a focus in your teaching style?
Yes. Devahiti translates into divine order or Natural Law, the way of dharma, for that matter. Alignment with gravity is crucial to synchronizing with the prevailing law of  Mother Earth. Failing to do so could result in spinal, or general, structural distortion. A distorted physical structure soon results in a discomfort that reaches into the mind. The purpose of Hatha Yoga is to prepare the body-mind for the practice of meditation.
We initially work toward having gravity support us in asana. This relaxes the nervous system which  naturally stills the mind, resulting in Sukha and Sthira. In this state of equilibrium the authentic inner nature, the true self, is expressed and aligned with the Natural flow of life.
Alignment of the spine, of the body structure, with gravity, to align with  Prakriti, with the authentic inner nature, Cosmic intelligence – this is our quest. So yes, I would say alignment on all levels, is central to my yoga practice and teaching.
What do you love most about yoga?
I love that my calling is what nourishes me physically, mentally and spiritually. I love the discipline, the beauty of the philosophy and the expansive, uplifting effects of the practice in general, from asana, pranayama through to mantra and meditation. It is Whole food Soul food. I love that it is an endless, stimulating, exciting exploration into fathomless depths and infinite heights. I love that I can share the gift of self-empowerment, so simply. I love Yoga for gifting me with a sustained meaningful life.
What is the greatest challenge you have overcome with the help of yoga?
Besides overcoming the effects of the life threatening disease afore mentioned, lower back problems formed part of my life from an early age, due to fallen arches as well as diving accidents as a young child. This in combination with failed surgery done on my feet resulted in incapacitating lower back pain. Yoga practice lead to a deeper knowledge of the body structure which in turn guided me into navigating my body mindfully and intelligently. Yoga became my healer as well as my medicine and finally inspired me to study Ayurveda and body alignment techniques which culminated in a unique bodywork system which I practice and teach.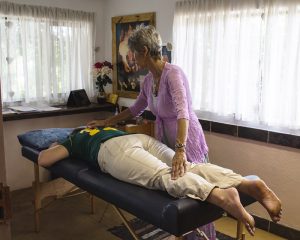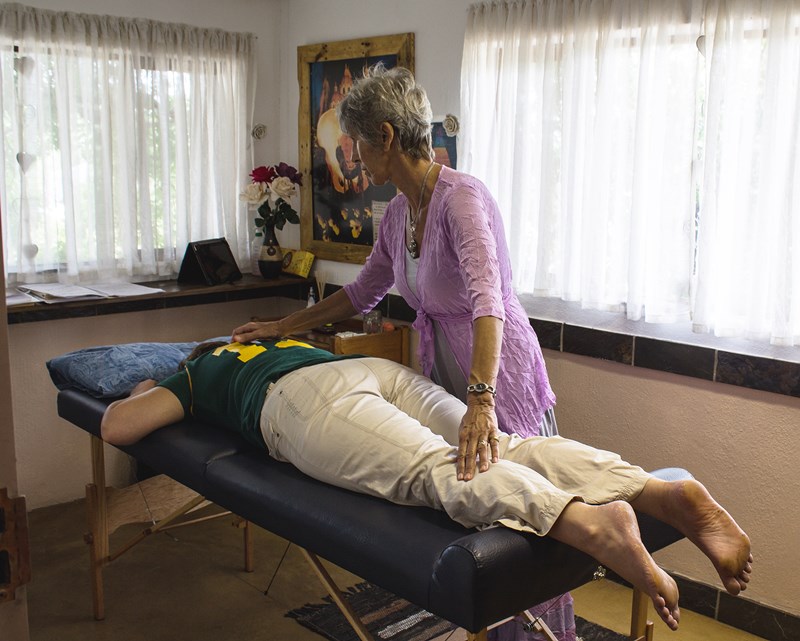 What advice do you have for people who have never tried yoga?
Try it. Yoga teaches you body awareness and body communication skills. How to calm your nervous system, to control pain, to prevent pain!  It opens up a whole new inner world, insight into the 'self' and its actions. It gifts you with self empowerment.
Do you have a regular practice?
Yes, in that my practice is my teaching. This is besides time spent in my studio to simply be out there in the bush and with whatever animals feel like gracing me with their presence.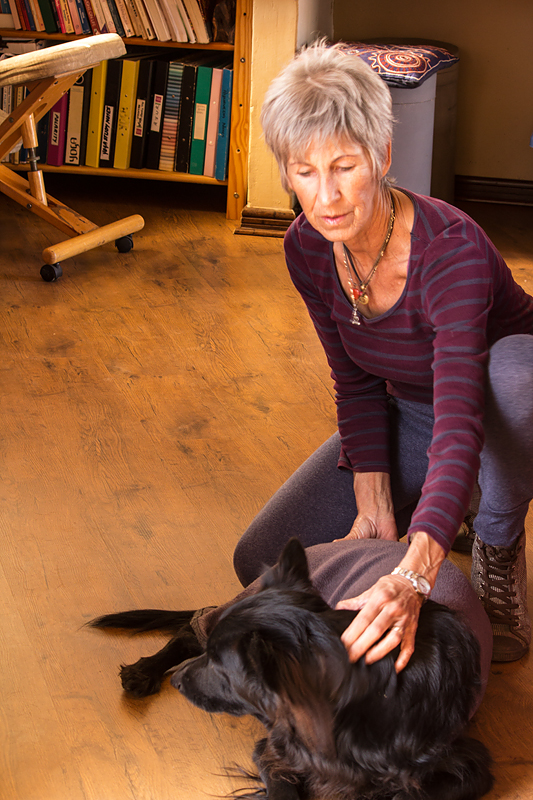 Favourite Asana?
 I seem to develop a craving for specific asanas and now is the turn of Sarvangasana.
Strongest Asana?
It changes I guess.
Any religious affiliations?
No but a strong spiritual path.
What are your other interests?
Devahiti Bodywork extends to working on alignment issues in animals and this is gradually developing into a passion. Other than this, Ayurveda, herbology and my immediate environment and wildlife neighbours.
Any Thank yous?
To all my Iyengar teachers in the early years. To Ananda Sanga for providing the gentler approach when it was so desperately needed. To my beloved Guru without whom there would have been none of this.