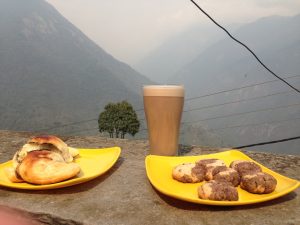 This was another tough day of walking – all I say is steps! I swear I will never ever be going to a step class in a gym in my whole entire life, ever! (If I ever feel like I need a butt firming work out, I'll just head up to ABC). Did I mention the steps on the way?…
So we eventually made it to Chomrong, the walk there was beautiful and Chomrong was definitely my favourite place to stay on the whole trek. Not only because of the hot chocolate and view, but because we stayed in the sweetest guest house with, (in my opinion), the best home-cooked meals of the trek – the dahl bhat here was outstanding!

My favourite place, sitting on the wall, looking out at the mountains, breathing, stretching, reading and just zoning out. To be honest, I was originally thinking about possibly taking a group of yoga students on a trek in the future, but I quickly realized that this would not be for me. For some reason I can't put the yoga and trekking together here. For me there was nothing nicer than waking up at the crack of dawn (5am or so), sitting outside and watching the sunrise, watching the mountains and the light change, enjoying the stillness and the movement of the locals beginning their chores for the day. And all too quickly by 7am the mountains would hide behind the clouds again until the evening when they would be revealed once more. This quite time was my sacred time, and I loved each and every morning, it was the time when I could send out a massive wave of gratitude to all those in my life, my family, my friends – old and new, acquaintances and all the many blessings in my life which have allowed me to experience all the places, events as well as supported the many changes I've made in my life. To me, this is living Yoga. And I believe we all do this in our own way.