Prepared by Marlene Ramcharan
Serves 2 – 4
Cooking time 20 minutes
Vegan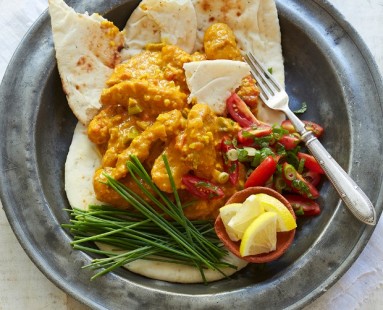 INGREDIENTS:
1 pack of Fry's Meat Free Crispy Prawns
4 tbsp. oil
1 onion, finely chopped
1 tsp. ginger and garlic paste
1 tsp. mustard seeds
2 green chillies, sliced
1 tbsp. chilli powder
1 tbsp. garam masala
4 tomatoes, grated
400ml coconut milk
400g can of chickpeas, rinsed and drained
Coriander (dhania) for garnish
METHOD:
Heat 2 tablespoons of oil in saucepan and add Fry's prawns. Fry until golden brown and drain and set aside. Add another 2 tablespoons of oil to saucepan and add mustard seeds, onions, chillies, ginger and garlic paste, chilli powder and garam masala. Cook till golden brown. Add tomatoes and simmer for 5 minutes.
Add chickpeas and allow to cook through. Stir in prawns and coconut milk. Simmer for 2 minutes and garnish with coriander.  Serve with naan bread or couscous.