Makes 8 mini pitas
Cooking time 20 minutes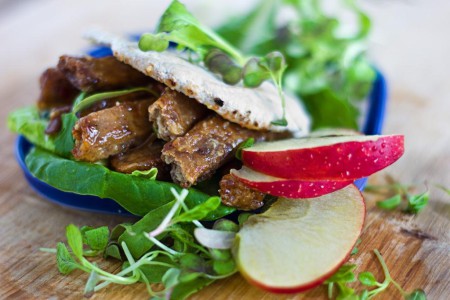 Ingredients:
1 box Fry's Thick Cut Chunky Strips
8 mini pita breads
2 tbsp Sweet Chilli Sauce
1 Avocado, sliced (optional)
Micro greens and sliced apple to garnish
Hummus to serve
Sundried Tomato Pesto to serve
Wild rocket/Apple, optional
Method:
Prepare the strips according to instructions on the box. Add sweet chilli sauce in the last 2 minutes of cooking until the sweet chilli caramelises onto the strips. Warm the pita breads and slice open. Generously spread the hummus and pesto over the pita and add the avocado. Spoon the strips and micro greens into each of the pitas.
Serve with a few slices of apple or Fresh Wild Rocket