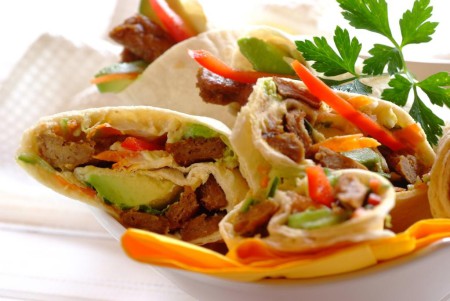 Ingredients:
1 box Fry's Thick Cut Chunky Strips
50ml Sweet chilli sauce
4 Ready-made wraps
1 Red pepper (sliced)
1/2 Iceberg lettuce (washed and sliced)
1/2 English cucumber (sliced into thin strips)
1 Avocado (peeled and sliced)
1 Carrot (peeled and sliced into strips)
1 Red pepper (de-pipped and sliced thinly)
Sauce of your choice to spread on the wrap. Mayonnaise, pesto, hummus, tzatziki, or combinations.
Method:
Fry the strips in a little oil for 8 minutes. After 5 minutes add the sweet chilli sauce. Warm the wraps as per packet instructions and spread with the sauce of your choice. Place the lettuce, cucumber strips, avocado, carrots and red pepper on the wrap and top with the Strips.
Roll, cut and enjoy!