Serves 4 – 6
Cooking time 50 minutes
Allow 1 hour for preparation
Vegetarian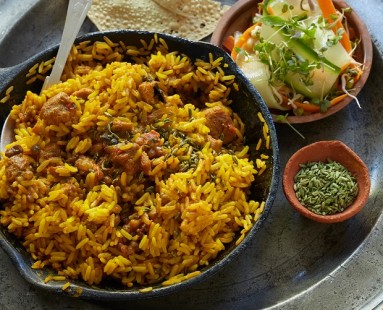 Ingredients:
2 packs Fry's Chicken-Style Chunks
Salt to taste
1 cup yoghurt (or try dairy-free or soy yogurt)
2 tomatoes (pureed)
Juice of 1 lemon
2 tbsp. crushed garlic
2 tbsp. mixed masala
½ bunch of mint leaves
¼ bunch coriander (dhania)
1 cup whole black lentils (soak in hot water with ¼ tsp. salt)
2 cups rice (soak in hot water with 1 tsp. salt)
½ cup clarified butter (butter ghee or try margarine)
½ cup oil
2 pieces cinnamon sticks*
2 black cardamom (elachi)*
4 white cardamom (elachi)*
1 tbsp. fennel seeds*
1 tsp. poppy seeds*
1 star aniseed*
2 bay leaves*
1 tbsp. cumin (jeera seeds)
2 medium onions (sliced)
½ tsp. cumin powder (jeera powder)
½ tsp. coriander powder (dhania powder)
¼ tsp. saffron (soaked in a quarter cup of hot water)
Method:
Place Fry's Chunks, salt, yogurt, tomatoes, lemon juice, garlic, mixed masala, mint leaves and coriander in a large bowl and marinate for at least 1 hour.  Boil through black lentils in salted water, drain and set aside. Boil rice till half done, drain and set aside.
In a large flat-bottomed pot, add ghee, oil, cinnamon sticks, black cardamom, white cardamom, fennel seeds, poppy seeds, aniseed, bay leaves, cumin seeds, onion, cumin powder and coriander powder and fry until golden brown. Add marinated chunks and bring to a boil. Add black lentils and spoon rice on to chunks mixture. Sprinkle saffron mixture over rice.
Pour enough water over rice (about two centimetres above rice). Cook on medium heat until mixture starts sizzling and then reduce heat to low and simmer for 30 minutes.
Serve with dhall or carrot and cucumber salad.
* These spices are contained in whole Breyani mix.