Over the next 12 posts I will be sharing with you my adventure up to Annapurna Base Camp (ABC) in Nepal. To be honest, my dream has been to visit Tibet, but when I heard that my friend Helen's husband, Roland runs a trekking company, (The Mountain Company) and organizes treks around the world, I had a look-see what was on offer, (something relatively easy was the requirement), and there was a mildly strenuous trek to ABC in Nepal on offer for April. So yip, you guessed it, I booked myself on the trek. What joy, to have someone else organize the whole process for you –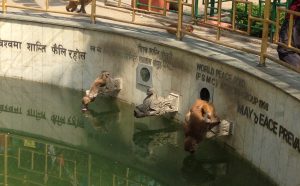 I will admit, as much as I enjoyed my backpacking days in my 20's I was quite happy to have hotels, airport transfers, guides, porters, rooms, meals etc. all planned and organized for me. Yes, I've become more of a luxury traveller nowadays.
So in these next posts I'll be sharing with you my adventure, a variation of a normal travel write up. I'm going to infuse it with a bit of yoga philosophy, my experiences, feelings, highs and lows but more importantly lots and lots of pictures so that you too can experience, see and get a taste for what I got up to and if it is something that might interest you in the future. To be completely honest, I am one of those people who just don't do much research before I travel to my destination, partly because I don't like to have expectations that aren't met but frankly, I'm actually just too lazy to. Hence the joy of having someone else organize things for you.