So the trek started from a little town called Pokhara about a 30 minute flight from Kathmandu. I already spent 6 days before the others arrived in Pokhara getting to know the area, doing some shopping, sightseeing and joining various yoga classes and enjoying the unpolluted air – quite different from crazy Kathmandu! Taking a week out to just chill and relax.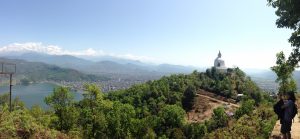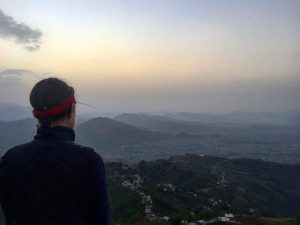 Click here to check out my first attempt at a timelaps film. I tried to get the sunrise from what is known as Sarangkot in Pokhara.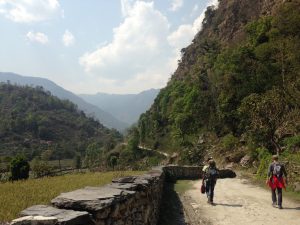 In the morning the guys arrived – our team consisted of Hebi our guide, Min our porter, Stephen, (the Scott living in Argentina with his family), and me. So the four of us were going to be spending the next 12 days getting to know each other a lot more. After a long drive, (I'm not even going to go into the state of the roads, cars and everything else), let's just say we were excited to get ourselves going, (and oh boy, did I realize early on that I over-packed – I blame this on genetics from my mother's side!).
Even after the destruction of the earthquake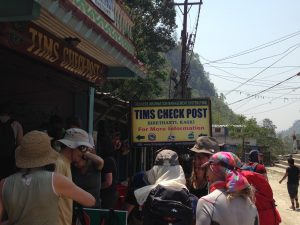 in 2015, you can see the Nepalese trying to rebuild their lives and livelihood again. And the trekking in Nepal has a massive impact, (agreed, not always a positive impact), on supporting the locals and local industry. The infrastructure for trekking is getting better and better. There are regular check points along the way where you need to sign in to ensure that you are accounted for and that you have the correct permits, tea houses where you can pick up anything from hot water with ginger to Coke as well as little restaurants that all have an extensive menu from the local dhal bhat to pizzas and pancakes – the mind boggles sometimes.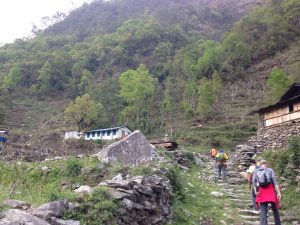 So we started off on our adventure walking from Nayaul to our first night's stay in the village of Tirkhedunga. Here you learn early on, that the ABC trek is a lot of steps up and then steps down… this wouldn't be the end of the steps…