As you near the end of an adventure, you always have mixed emotions. So far we had an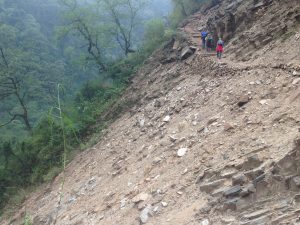 amazing time with the climax being the spectacular views from ABC. We had a lovely two days in the quaint village of Chomrong after that adventure and we were now nearing the end of our trip. A trip that I didn't really want to end but also one that I was looking forward to coming to a close. I was looking forward to the comforts of having a warm hot shower, a bed with clean linen and internet to contact family and friends.
So a slightly delayed start, ("just 5 more minutes Hebi" was the regular call that morning), with slight jelly legs that got us going that morning. At least is was a day of mainly downhill walking, (thank goodness!). I don't think my legs could have been able to do more ups again. We walked through the beautiful mountains and valleys, enjoying the stillness and quietness. This part of the trek definitely had a lot less people than when we started and we enjoyed the peacefulness of the surroundings. Again, we made it to our next stop point just before the heavens opened. So we managed to arrive dry and intact. I don't think I would have coped if I would have needed to go walk up or down steps in the rain that day. I think I would have thrown my toys out the cot – thank goodness it never came to that!